Book Review: 'War and Democracy' by Paul Gottfried
by Dr. K R Bolton
January 12, 2013
Paul Gottfried, War and Democracy: Selected Essays 1975-2012 (London: Arktos Media, Ltd., 2012).
This book needs to be read by 'progressive-liberals' who think of themselves as erudite critics and analysts, just as much as by conservatives, but I dare say the one group that would be least likely to benefit are the oddly name neoconservatives, who are neither "neo" nor "conservative." Another group that could benefit are intransigent "anti-Semites" on the Right whose often justified suspicion as to the Jewish presence in New York and Washington excludes the possibility that a great many Jews both now and in the past have been sincere patriots, not least those in Weimer Germany who, apart from being conspicuous in the ranks of the anti-national Left and the most depraved manifestations of cultural excess, also included the greater number who had fought with valor during World War I, and others who were committed to German nationhood and German culture.
Today many Jews in the so-called "Diaspora" find themselves in a predicament: there is a charge of "dual loyalty" that puts Jews under suspicion of having secondary loyalty to the goyim states in which they reside and primary loyalty to Israel.
Dr Paul Gottfried, Professor Emeritus of Humanities at Elizabethtown College, Pennsylvania, and a Guggenheim recipient, has never had any conflict of loyalties. Nor does he even accept the designation "dual loyalty." Gottfried is an American. While he supports Israel's right to exist as a sovereign state his sympathy is apparently for the ordinary Jewish folk who find themselves pushed about by the forces of history, like any other ordinary folk, and in particular pushed about by the Zionist establishment which, as other scholars such as Israel Shahak have shown, strive to keep their flock under tight control, regardless of the sacrifices demanded (Israel Shahak, Jewish History, Jewish Religion, 1994). For Gottfried "dual loyalty" is a misnomer; there is nothing two-fold about the loyalties demanded by Zionism: loyalty to Israel first, last, and always. Gottfried as a genuine conservative of Jewish origins, is often in even more of a predicament that the Gentile conservative, as he does not follow the party-line in regard to Jewishness as demanded by the likes of the Anti-Defamation League and just as much by the Israel-fawning neocons. Hence he is called a "self-hating Jew" by Israel's hallelujah chorus on the one side, while on the other being treated with suspicion by some of those on the traditional Right who think that being Jewish is a ground for suspicion. Gottfried, as a measure of his own introspection, states that had it not been for his Jewish origins he would probably share the bitterness of many towards Israel per se, on the Old Right, which has seen once pro-Israel conservative luminaries such as Pat Buchanan being pushed into an unequivocally anti-Zionist position when it is found that support for Israel by conservatives is not reciprocated by Zionist support for the integrity of Western, Christian nation-states. Nor does Gottfried have any sympathy for whiney Jews who see anti-Semitism and disadvantage behind every corner, no matter how privileged their position; a situation he first noted as a student at Yale. He is also avid in exposing the "anti-fascism" racket, that of using the "f word" at every possible juncture, not just with the contrivance of an "Islamofascist" world threat, but also the smearing and suppression of every movement that questions the desirability of multiculturalism, especially in Europe.
It is Gottfried's opposition to the confounding of Israel and Zionism's interests with those of the USA that is a particular feature of his analyses of US policies and the outlook of the neocons who dominated the Reagan and Bush administrations and whose policies have continued by Obama in the name of liberal-Democracy.
He has significantly defined, and apparently coined the term, paleoconservative. A clarification was needed for what Gottfried also calls the "real Right" and the "true Right" vis-à-vis what Leftists and self-styled conservatives today call "neoconservatism" which is, especially in the Anglophone nations, generally regarded as synonymous with Right-wing. Hence the US foreign policy establishment and the US conduct in world affairs is often termed "Right-wing" when it is nothing of the kind.
War and Democracy comprises a selection of 25 articles spanning nearly forty years of scholarly endeavor and articulation in both academic and broader media. Many of the articles take the form of book reviews to express Gottfried's opinions. All articles are succinct and forceful. One, a eulogy to his father, backgrounds the life of a Jewish family from the old Austro-Hungarian empire, who were not, unlike many of their brethren, well-disposed towards supporting the Communist Party once in the USA. Gottfried seems to have been a conservative from his earliest days at Yale, but watched firsthand the manner by which the conservative movement was subverted and redefined by people who were often of Leftist background, whose messianic yearning for a "world revolution" never left them, and whose influence continues to define US policy whether under Democratic or Republican administrations. Gottfried sees this more aptly as "neo-Jacobinism."
The present neocons have taken over the ideological baggage of Woodrow Wilson in wanting to impose a one-size-fits-all system over the entire world, with neocon ideologues such as Ralph Peters calling for "constant conflict," which sounds more like Trotsky's "permanent revolution" than anything of a conservative nature. The neocon movement has inherited much from the Left as to general outlook: the ideal of a "world revolution" is just as much a part of the ideology of Freedom House, National Endowment for Democracy, etc. as it was for the old Left. Likewise "the fight against "'fascism'" is continued today just as vigorously by the neocons as it was by the old Left. The terminology is similar, the mentality the same, however, today the new threat is repackaged as "Islamofascism," which must be defeated in the interests of "world democracy" under the leadership of the USA. Indeed, as Gottfried points out, neocon ideologies have a messianic outlook in wanting to impose "American democracy" over the world by force if necessary. Wars are therefore fought in the name of "human rights" or of "feminism" in order to drag every state into a global order under US auspices. The bogus Right therefore pursues agendas across the world that were once regarded as left-liberal, and misnamed "conservatives" expound views that until a few decades ago would be regarded as on the left; lauding Martin Luther King for example, as a "Christian conservative," pursuing multicultural agendas across both the USA and the rest of the world – other than in Israel – advocating open border immigration in the name of "human rights," unless those immigrants are Muslim.
Gottfried rejects the Islamophobia that has become part of the neocon agenda, while also rejecting another notion popular among the neocons, especially Israel's cheerleaders among the Moral Majority types: "Judeo-Christianity." Gottfried states that the term is a misnomer. He confirms that Judaism is fundamentally anti-Christian, pointing to the vitriol about Jesus in the Talmud. He states that such sentiments are not, as is argued by Talmudic apologists, a reaction by persecuted Jews against their Christian tormenters, but entered the rabbinic teachings well before any such conflicts between the two religions. He points out that the relations between Judaism and Islam were until comparatively recently amicable, and the call for a united "Judaeo-Christian front" against Islam is without foundation. Gottfried states that despite the kowtowing of the Christian "Right" to Israel, Zionists do not reciprocate with any such respect for the Christian tradition, and Jewish groups back efforts to undermine the Christian foundations of Western states.
Indeed, support for Israel is a defining element in neoconservatism, as is multiculturalism, and dissent has seen outstanding thinkers and writers of the "real Right," such as Pat Buchanan and Joe Sobran purged from National Review and other mouthpieces of neoconservatism, and marginalized.
Gottfried goes further and as a scholar of the Right also stands against the liberal agendas in academia, publishing and government, ensuring that if he wanted to maintain his integrity he would probably have to content himself to remaining as a humble professor at Elizabethtown College, despite a brilliance that could have taken him to the pinnacles of conventional success.
Whatever one's political persuasion, War and Democracy will be instructive, even if only to inform the antagonistic reader as to what the "real Right" actually is firsthand, rather than coming second-hand through the filters of both the Left and the neocons.
Home » Entries posted by Dr. K R Bolton
Crisis scenarios are the means by which dictators justify control. The most often cited example is Hitler's "Enabling Act" in the wake of the Reichstag Fire. Another example is the…
March 24, 201118 Comments
The ideological foundations of U.S. foreign policy have neo-Trotskyite foundations. Hatred of the USSR since the time of Stalin was the primary motivation for Trotskyists to the point where a…
Paul Gottfried
Aryeh Botwinick's "Liberal Democracy, Negative Theory, and Circularity: Plato and Rawls" appears in Telos 161 (Winter 2012). Read the full version online at the Telos Online website, or purchase a print copy of the issue in our store.
This paper argues that the best kind of philosophical defense of democracy is one that is worked out within the framework of negative theory. The phrase "negative theory" is being used on analogy with the term negative theology. Just as negative theology argues that we can only indefinitely say what God is not but cannot pinpoint in a positive sense what He is, so, too, negative theory advocates that we can only ceaselessly explore and highlight the limitations of reason, without being able to arrive at a positive content that is incontrovertible and uncontestable.
Some of the most dramatic manifestations of a negative theoretical approach to political governance are found in the implicit acknowledgements of the inevitability of circularity insinuated by some of the major philosophers of Western thought. In this paper, I analyze Plato's argument in the Theaetetus in order to illustrate the ways in which Plato is committed to the thesis of the inevitability of circularity—and to address some of its political implications. In the second part of the paper, I try to show how a deep reading of Rawls's meta-ethical theory connects it with an acknowledgement of the inevitability of circularity, which re-evokes the structure of the Platonic argument in the Theaetetus.
Viewing circularity as a permanent feature of argument is symptomatic of a deep-seated skepticism. The paper points to pronounced rhetorical affinities between skepticism and the practice and theory of democracy.
As an occasional feature on TELOSscope, we highlight a past Telos article whose critical insights continue to illuminate our thinking and challenge our assumptions. Today, Damien Booth looks at Pier Aldo Rovatti's "Critical Theory and Phenomenology," from Telos 15 (Spring 1973).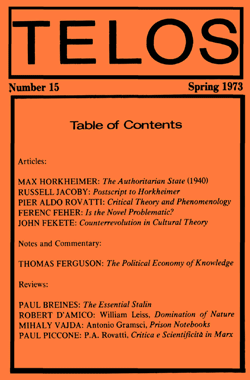 The relationship between phenomenology and critical theory is a complex one that deserves a great deal of attention. On the one hand, Marcuse, as a student of Heidegger, maintained a certain level of affiliation with his thought, while, on the other, Lukács and Adorno were critical of phenomenology, with Heidegger in particular coming under criticism. In "Critical Theory and Phenomenology," Pier Aldo Rovatti attempts to show how these two modes of thought may have a meaningful encounter.
First, Rovatti notes how the two were united in their respective attempts to attack the emerging positivism and the radical rationalization of human activity. These notions were both charged with bringing about a crisis in modern thought. Rovatti notes how phenomenology and critical theory were also similar in their attempts to emancipate humans. Husserl was concerned with a radical refounding of science, while Adorno, Horkheimer, Marcuse, and others were concerned with salvaging the humanism of Marx's thought.
However, Rovatti raises Adorno's criticism. Phenomenology's concern with the purely given phenomena of experience prevents it from being truly critical. Adorno also adds that phenomenology, in its loyalty to this experience, leads to a situation where its descriptions merely describe the phenomena of advanced capitalist society. "Therefore, in Adorno's eyes, phenomenology appears as a disguised positivism that implies (i.e. it hides) a theory of social control, or at least, of an a priori validation of such control" (26). As Rovatti explains:
[A]s a doctrine of the contemplation of essences, Husserlian phenomenology would be the base supporting Heidegger's existential ontology. Adorno's reasoning develops in the following way: Husserl is incriminated with the dominant scientificity beginning with the Logical Investigations until the very end. (27)
Husserlian phenomenology, according to Adorno, is still wrought with the symptoms of postwar rationalism, and so there is "no possibility that critical theory could have a positive encounter with phenomenology" (27).
With that in mind, Rovatti moves on to explain that critical theory has failed in pursuit of its primary goal: "to take advanced capitalist society as its object and to be its critical theory" (28). This, according to Rovatti, is due to the Hegelian-Marxism that underpinned critical theory, imbuing it with limited theoretical apparatus. As a "negative function of reason," critique emerges as a
[n]egative dialectic which arises out of an ethical-utopian impulse, which presents itself as "irrationality" in front of the dominant reason of enlightenment. . . . Thus, the dialectic "without synthesis" of the Frankfurt School ends up as a critique without a foundation. (28)
Phenomenology on the other hand, particularly Husserlian phenomenology, managed to break away with some traditional notions (i.e., the subject-object dualism) while still remaining a traditional mode of thought. It also gave us fresh notions such as "intentionality" and the Lebenswelt (lifeworld). Phenomenology and Marxism "crossed paths" because of the stronger theoretical instruments that the former provided the latter. With critical theory being motivated purely by the "negative function of reason," it became a critique without any theoretical basis. In phenomenology, we find the apparatus with which to form that basis.
It is at this level, I believe, that a meaningful confrontation between critical theory and phenomenology can be brought about: when both—each loaded with their respective autonomous development of thought—find themselves on the same side in the attempt to reinterpret Marxism's critical element. (29)
Rovatti then switches attention to an early Marcuse essay "Contributions to a Phenomenology of Historical Materialism." Here, Marcuse attempts to find the philosophical foundation of the concept of history by using phenomenology as his guide. Rovatti points out however that Marcuse does not separate phenomenology from Heidegger's ontological context. As a result, Marcuse's critique cannot be critical of Heidegger's thought that Being is the proper philosophical foundation.
Thus, all of Marcuse's critical efforts remain within the ontological horizon, in trying to pass from an abstract to a concrete, material ontology based on needs, labor, the factuality of the social, and on life as real movement. (37)
Rovatti identifies the concept of "need" as concealing something important about the encounter between phenomenology and critical theory. He thinks throughout Marcuse's works, we can see attempts to "concretize" need as the phenomenological foundation of history. With Adorno, "ontological need" finds its realization in a state where men are unable to notice the "necessity" that they act in accordance with. So, according to Rovatti "ontology is a substitute for the actual behaviour induced by the requirements of capitalism and its cultural industry." (39)
"Need" becomes that which requires critique. It can be the object of critical theory, but it has an intentional character; phenomenology gives critical theory its properly theoretical object.
Marx himself, in whose works a phenomenology of need can be found, must be liberated from a naturalistic and ontological notion of needs for an intentional, historically determined, yet subjectively constituted concept. (39)
So, according to Rovatti, phenomenology is attempting to instantiate a link between the precategorical and the categorical, whereas critical theory "either rejects the precategorical or makes it into an ontological-idealogical moment" (40).
The meeting of two modes of thought is rarely (if ever) accidental, and by referring to "need" in both Marcuse and Adorno, Rovatti highlights a Marxist symbiosis of phenomenology and critical theory:
If, as we have seen, Adorno's position leads to the self-dissolution of the critique and if the previously made observations concerning the identification of Heidegger and Husserl on ontological need are valid, the unmasking of this type of need, which conceals capitalism's constituted interests, goes in the right direction of a critique of ontology. (39)
Overall, Rovatti gives us an interesting glimpse into how two crucial schools of thought in modern European philosophy may compliment one another; by referring to Marcuse's early work we are shown how critical theory can gain a theoretically sound object of critique in the form of "ontological need"—an object that is uncovered by Marcuse's attempt at a phenomenology of history.
Read the full version of Pier Aldo Rovatti's "Critical Theory and Phenomenology" at the Telos Online website. If you are affiliated with an institution that is an online subscriber to Telos, you have free access to our complete online archive. If not, you can purchase 24-hour access to this and other Telos articles at a per-article rate. Follow the article link for more details.
Paul Rekret's "The Impasse of Post-Metaphysical Political Theory: On Derrida and Foucault " appears in Telos 161 (Winter 2012). Read the full version online at the Telos Online website, or purchase a print copy of the issue in our store.
The debate between Jacques Derrida and Michel Foucault over the status of Descartes' Meditations can be read to indicate some profound implications for the ways by which we conceive of a post-metaphysical political theory. This article documents the way in which the terms of the debate suggest that in conceiving politics after metaphysics in terms of competing accounts of the contingency of Being or, in Stephen White's words, as weak ontologies, we are lead towards a profound paradox and impasse. To suggest that there is broad agreement in post-metaphysical political thought regarding the instability of ontology and the consequent theoretical task of questioning the grounds or foundations of particular political concepts or institutions is to overlook a fundamental paradox. What the debate between Derrida and Foucault in fact indicates is that these differing weak ontologies are in fact incommensurable with one another. Polemics among theorists at their core occur over the very ways contingency ought to be articulated, such that each account is exclusive of any other. This article will proceed by claiming that this fundamental incommensurability results in an irresolvable polemic between Derrida and Foucault, explicit in their competing accounts of Descartes' Meditations and implicit throughout their later more explicitly political work. The incommensurability between Derrida and Foucault suggests a broader impasse that haunts any political thought affirming its own finitude and situatedness.